Recently, my heart was breaking over what we are doing to our planet. And I realized part of the problem is that people in the westernized world never see the results of the unquenchable thirst for *things.* Some of the damage cannot be seen (such as radioactive and toxic waste), although we can see the aftermath. Other damage can be clearly seen, if you know where to look. I hope these photos, provided in no particular order, give a glimpse into what is happening to our world. It might not be in our backyards, but it will ultimately catch up with us.
Cement dome built in the Marshall Islands to contain radioactive contamination from nuclear testing


Source: Wikipedia
Mountain top removal


Source: Unknown
Ecological damage from oil pipeline explosion in Nigeria
Source
Oil leaking from Nigerian pipeline burns in a swamp
Source
Deserted Chernobyl with nuclear power station in background


Source: Flickr
Polluted Citarum River, Indonesia
Source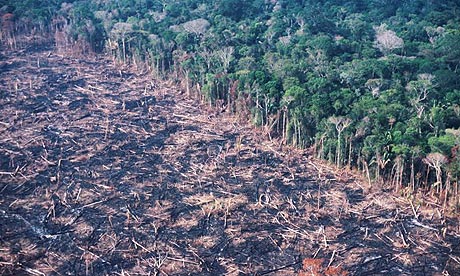 Amazon rainforest cleared for oil and gas exploration
Source
Deepwater Horizon oil spill in Gulf of Mexico
Source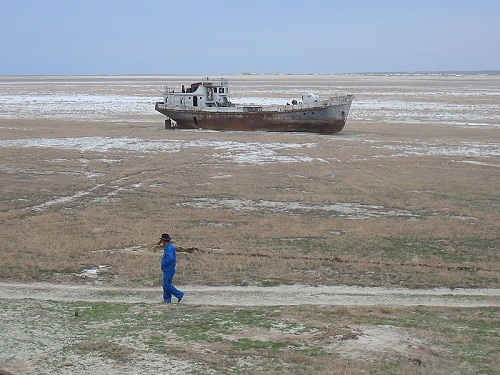 Aral Sea was once the world's fourth largest lake
Source
Mir diamond mine in Russia


Source: Wikipedia
Land cleared for palm oil plantations in Malaysia
Source
Another copper mine in Chile
Source
I include this photo of a military cemetery because military conflicts are about the struggle over control and use of resources. When we are told that conflict is to protect "American interests" or for our "security," the underlying message is that we need more resources.
There is hope. We can do something about it but we need to remove the blinders from our eyes. What we see in our everyday lives is a sanitized version of what is really happening in the rest of the world. In our everyday lives, we need to consume less and to be more content. We must be vocal about environmental issues by telling corporate leaders and politicians that we are opposed to policies that degrade our environment - around the world. We must educate ourselves and share the knowledge we gain. People can make a difference.
I'll close with a quote attributed to Gandhi: "The world has enough for everyone's need, but not enough for everyone's greed."